VoyOpt&#0153 Technology
An Innovative Voyage Optimization And Weather Routing Solution
The VoyOpt™  technology combines critical ship-specific parameters – such as sailing speed, GPS /AIS position, engine parameters, drift, loading condition etc. – with real-time weather and metocean observations. 
Metocean forecasts up to 16 days ahead from various sources are acquired from all over the globe, along with observations from several (spaceborne, seaborne and coastal) earth observation platforms. These various sources of metocean data include information about parameters such as waves, winds, currents, severe weather, sea ice concentration and drift. By combining forecasts and observations from multiple sources and sensors through our innovative data merging techniques, weaknesses of one data source are compensated for by the characteristics of another; the data sources are continuously assessed and updated to ensure that their capabilities partly overlap and complement each other. This makes VoyOpt™ an all-weather, 24/7 route planning and optimization system. 
All these observations, parameters, and boundary conditions are integrated to generate an optimal route plan that assists the master in selecting the optimal route and speed pattern to the next port – continuously and in real-time.
VoyOpt™ works with a continuously changing data stream of currents, winds, waves, and weather patterns, that is redrawn for every instant in time along a ship's voyage and whose values are used to estimate ship motion, ship speed, ship power, ship stress, etc. in each of its network nodes by use of ship-specific performance models.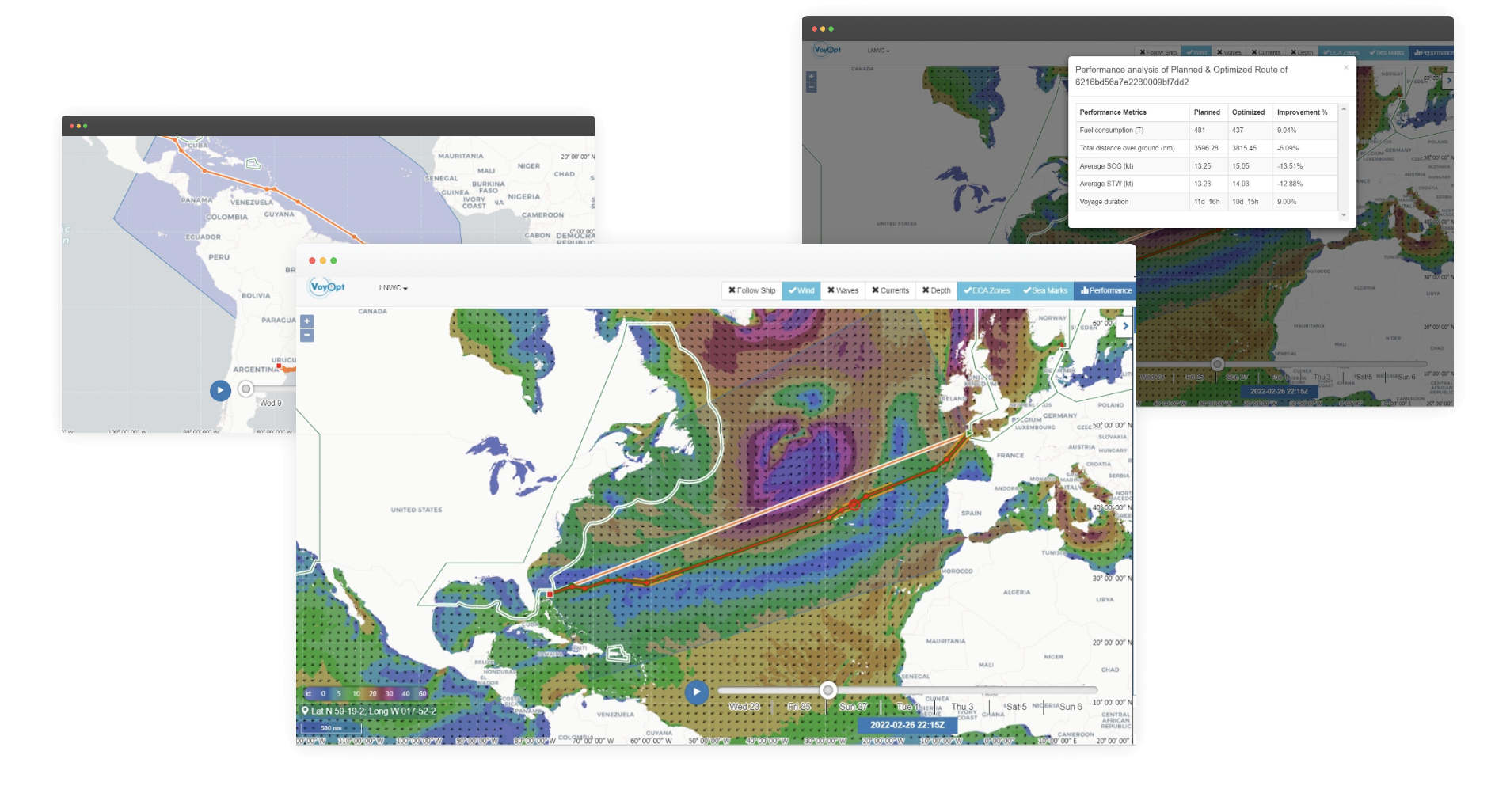 For operators and crew

The VoyOpt™ system enables vessel operators and other crew members to recalibrate and reprioritize upcoming voyages at any time. This flexibility results in the VoyOpt™ system presenting updated voyage plans with recalculated ETAs, speed patterns, and more.
The system dynamically adapts to changes in the environment throughout the voyage. The system utilizes machine learning algorithms along with real-time weather and sea state forecast data to predict with high accuracy the fuel consumption potential, energy efficiency, vessel speed, and other performance-related, critical insights.
Benefits
1- VoyOpt™ solution significantly increases efficiency by automatically optimizing voyage plans with the latest updates to ensure a safe passage while significantly reducing ETA delays. Vessel operators and crew members can calculate the ETA with precision while also considering key factors such as vessel performance, weather conditions and forecasts, as well as open sea conditions.
2- VoyOpt™  is a comprehensive navigational aid which enhances the charted course to ensure the maximum reduction in fuel emissions.  
3- As a 360-degree decision-support tool, VoyOpt™ enables mariners to change course and select the smartest route while attaining the maximum fuel savings.
4- VoyOpt™ solution decreases the crew's workload by improving on-board safety and increasing automation.
5- VoyOpt™ lowers human risk factors with its automated navigational capabilities
6- VoyOpt™ minimizes the environmental impact of global shipping and transport activity.
7- VoyOpt™ saves time and lessens administrative burden by enhancing automation and digitalization of the processes.
THE RIGHT FIT
For Fleet Managers

The VoyOpt™ system provides a competitive advantage to fleet managers by synchronizing valuable voyage optimization and weather route planning and optimization information in real-time and facilitating clear communication with the vessel operator and crew during all parts of a voyage. Optimized route plans are communicated to the vessels for multiple benefits such as to save fuel and reduce pollution. Fleet managers will be able to visualize the vessels, and real-time performance insights on a single platform, enabling better presentation and easier interpretation of the information.
Benefits
1- VoyOpt™ boosts fleet performance, vessel operations, and supports profitability.
2- VoyOpt™ allows for port-to-port, real-time calculations of the entire voyage plan – speed, fuel usage, fuel costs, route mapping, weather forecasting, up-to-date sea conditions – and enables decision-makers to swiftly respond to any changes in the sea, weather, or business conditions.
3- VoyOpt™  enables navigational and environmental compliance.
4- VoyOpt™ provides real-time tracking of the entire fleet from one unified dashboard.
5- VoyOpt™ 's instant recalculation means that it is easier than ever to achieve optimal voyage outcomes due to the flexibility provided by the VoyOpt™ solution.
6- VoyOpt™ is fully customisable for all ship types (small and large vessels), all shipping activities (short and long voyages), at all times (real-time), and meets all possible objectives of the fleet management and the vessel operators.